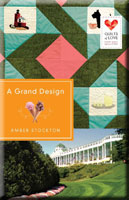 I have truly been enjoying the entire Quilts of Love collection of books. Each one is a treasure. one of the newest books, A Grand Design, is just wonderful!
As with the other stories in the series there is a quilt as an integral part of the whole thing. It's been fascinating to see how the different authors have brought quilts into the story in unique and interesting ways.
The description of Mackinac Island truly makes you want to go and visit to see everything for yourself. Alyssa is an interesting character in the book. it was easy to like her and walk through this story with her. She's very believable person and you find yourself hoping she finds love. Scott, Alyssa's romantic interest, was so sweet and understanding, although I would have loved to have learned a little more about his personal story.
In all, it was a nice book and a good read!
A getaway on a charming island may be just what Alyssa needs---if only she can let go of her past.
When Alyssa Denham, a single career woman, wins a fun getaway for two on Mackinac Island where her grandmother lives, she gives her carefree best friend a call. Together, they tour the old shops and hidden treasures of the quaint island while helping Alyssa's grandmother piece together an heirloom quilt. Their quest gains them entrance into the homes of many longtime residents of the island, parts of the city that are otherwise off limits to tourists.
As the quilt's story takes shape, Alyssa gains amazing insight into her grandmother's life . . . and attracts the attention of the handsome Scott Whitman, an island resident in charge of hotel transportation. Will memories of her past keep Alyssa from letting go? Or will the quest to piece together the heirloom quilt restore Alyssa's fractured heart---and bring healing to her entire family?
Learn more about this book and the series at the Quilts of Love website.
About the Author:
Amber Stockton is an award-winning author, a national speaker, and a direct-sales brand partner with Nerium International. She lives with her husband and fellow author, Stuart Vaughn Stockton, in Colorado. They have a daughter and a son, and an Aussie/retriever mix named Roxie. Three of her novels have won annual reader's choice awards.
Connect with Amber: website, Facebook, Twitter
I received a copy of the book for review purposes. I was not compensated in any other way. All opinions expressed here are my own.