"Why art thou cast down, O my soul? and why art thou disquieted within me? hope in God: for
I shall yet praise him, who is the health of my countenance, and my God."
--Psalm 43:5
President Trump has compare

d our country's reaction to the corona virus t

o a war. Warfare is fought on many fronts. The physical dangers of this pandemic are obvious, and we see them affect many other aspects of life. Cultural changes and economic hardships are far-reaching and will take time and effort to counter or accept, and some things will be changed when the dust settles. Jobs have been lost: many businesses are not going to reopen, and some churches will close. Some foreign powers are using the "distraction" to further dangerous agendas, and some homeland politicians are trying to push radical agendas they could not advance during normal times. While we are seeing "the light at the end of the tunnel", what lies ahead as we emerge from the tunnel may be a very different society. Television newscasts keep giving us "confirmed cases" and "total deaths" updates, with higher numbers each day.
I find all this to be very depressing. Sometimes I change the TV channel, and take a break from the news to watch The Flintstones or The Dukes of Hazzard. Sometimes I ignore my doctor's advice and eat a few [okay, more than a few] extra chips or cookies. But it doesn't brighten my mood much, and isn't helping my waistline, either.
One of the biggest side-effects of the pandemic that isn't addressed much is the emotional toll it's taking.
Medical workers are struggling. A military chaplain who served in the Gulf War, now a volunteer chaplain in a New York City hospital, said what he's witnessing now is worse than the desert battlefield. Medical workers putting in 13-hour shifts report being fatigued and often sorrowful. That fact is especially worrisome: such stress can affect job performance, and lives are literally at stake.
Across the country, a major problem is depression. We see confusion, anger, and frustration triggering harmful behavior: assaults, domestic violence, break-ins and suicides are on the rise.
What can we do about it? More importantly, what guidance does the Bible give us when we are depressed?
The first thing we need to understand is what depression is NOT. It is not a demonic presence. When Scripture speaks of "a spirit of" grief or fear, it is talking about the human spirit: one's outlook or mindset. Evil spirits do exist and may try to lead us into depression, but it is our own spirit or heart which needs altering, not a demon which needs rebuking.
Depression is also not necessarily a sin! Isaiah told us that Jesus would be "a man of sorrows and acquainted with grief" [Isaiah 53:3]. The Gospels record His anger at the disciples and the Pharisees, and His sorrow over the death of Lazarus [even though He could bring him to life again]. He prayed in agony the night He was betrayed by Judas. "Negative" emotions are not evil just because we do not enjoy them.
Jeremiah, a mighty prophet, is known as the "weeping prophet". His mood did not disqualify him from prophetic service.
Even the Apostle Paul admits to depression, but contrasts it with failure! "

We are troubled on every side, yet not distressed; we are perplexed, but not in despair; Persecuted, but not forsaken; cast down, but not destroyed

" [II Corinthians 4:8-9]. "Cast down" doesn't mean being tossed off a building. It means having a "downcast" facial expression; to habitually look at the ground. In Paul's day, in the 17

th

century [when the King James Version translated Hebrew and Greek words into "cast down"], and in modern society, a "down cast face" is considered a sign of depression. But Paul contrasts being troubled, perplexed, and depressed with being in despair, being forsaken, being destroyed. We CAN have a troubled, perplexed, even depressed spirit [attitude] without being defeated – indeed, later in the passage he asserts, "in all these things we are more than conquerors" through Christ.
When we are tired, stressed, confused, even depressed, it can all be for good reason. The Christian is still a human living in a fallen world. It is not the absence of suffering that determines our spiritual condition, but our reaction to it. Struggling to overcome difficult moods and feelings is a noble deed; it's giving up and giving in to depression [or anger, or fear] that constitutes failure. And in our struggle, we should always turn to "God, that comforteth those that are cast down" [II Corinthians 7:6].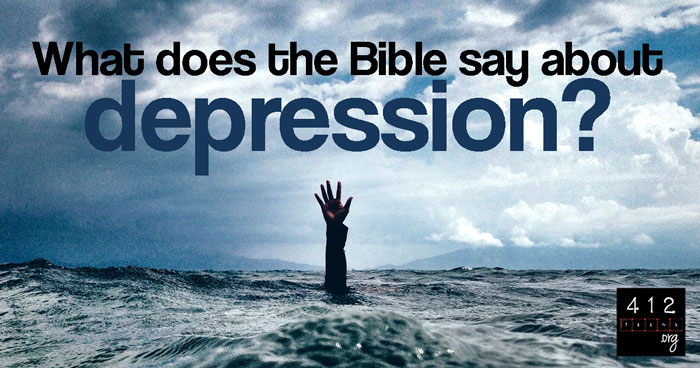 So: what do we find in the Bible to help us in the Down Days?
** In Down Days, God will always be there. "for he hath said, I will never leave thee, nor forsake thee."

--Hebrews 13:5
** In Down Days, God will always care:
"casting all your care upon him; for he careth for you."
I Peter 5:7
Do you give [cast] your worries to God, or try to deal with them as if He isn't there?
** Jesus is already victorious over Down Days:
"
These things I have spoken unto you, that in me ye might have peace. In the world ye shall have tribulation: but be of good cheer; I have overcome the world."
--John 16:33
** Jesus has united us eternally with our loving God, and Down Days cannot change that:
"I am persuaded, that neither death, nor life, nor angels, nor principalities, nor powers, nor things present, nor things to come,
n
or height, nor depth, nor any other creature, shall be able to separate us from the love of God, which is in Christ Jesus our Lord."
--Romans 8:38-39
** In Down Days, choose to think about uplifting things: "
whatsoever things are true, whatsoever things are honest, whatsoever things are just, whatsoever things are pure, whatsoever things are lovely, whatsoever things are of good report; if there be any virtue, and if there be any praise, think on these things.
"
--Philippians 4:8
"

These things" include these and many other verses that should comfort us. Think on them, study them, and rely on them as a way in which the God of all comfort calms and soothes your spirit on Down Days.
Then, when He has aided you, share what He has done for you with others who are also struggling with Down Days.
"Blessed be God, even the Father of our Lord Jesus Christ, the Father of mercies, and the God of all comfort;
Who comforteth us in all our tribulation, that we may be able to comfort them which are in any trouble, by the comfort wherewith we ourselves are comforted of God.
"
--II Corinthians 1:3-4
God is always greater than the biggest problem you have.
~ Rick Jones